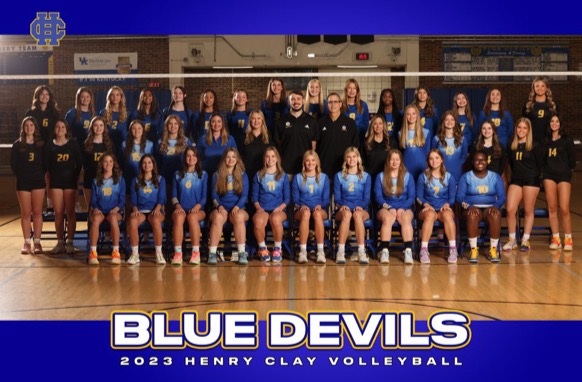 Volleyball season is underway at Henry Clay and the Girls' Volleyball Team has faced many changes in their program already, both positive and negative. Coach Goodwin is a new addition to the team's coaching staff, joining Coaches Dale Grupe and Luke Grupe in pushing the team to be the best it can be, both on and off the court. This season is Coach Goodwin's first in 25 years. She previously coached at a high school in Florida and has raised five sons in the years between.
"[Both teams] are similar in the sense of comradery," Goodwin said, describing the similarities in the HC Girls' Volleyball team and the team she coached in Florida. "The person I coached with in Florida and Coach Grupe have a great way of having a great relationship with the players."
Goodwin has high hopes for the 2023 season and believes that the team has what it takes to play well this season and in the coming years. 
"We have an incredible ceiling of potential," Goodwin said, "and I'm hopeful that we're going to reach it. It's super exciting, because we have a really good team."
As the new leader of the team, Goodwin hopes to protect the legacy of HC Girls' Volleyball, since it currently holds the title of the winningest volleyball program in Lexington.
"Coach Goodwin definitely has pushed us this year," senior Catherine Carlos, a middle blocker for the team, said, "and I think that's what we needed."
Volleyball requires resilience and determination in order for success. The team's record reflects its ability to use tough losses as motivation to do better in the games following.
"[This season] feels a lot better than past ones," Carlos said. "We feel a lot more in-sync and like an actual team and not just individual players."
During the team's game against Harrison County on August 17th, outside hitter Sunny Hilliard fractured her foot, which she had previously injured. This injury required surgery, thus making her likely unable to play for the rest of the season.
"Sunny is irreplaceable," Goodwin said. "She was somebody that played all rotations for us, so when we lost her, it was a very big position to fill."
The loss of Hilliard as a player for the team forced younger players to adapt to new roles to fill her spot.
"It was a big loss for us," Goodwin said. "However, the people that have stepped in and have taken on that shared role are doing a really great job."
The HC Girls' Volleyball team plays Ryle High School on Wednesday, September 13th at 5:30 at Henry Clay. HC students, come support your Lady Devils!