HC's first musical in three years proves to be a hit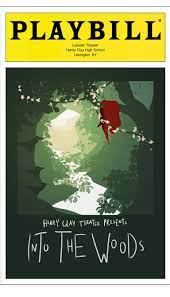 Recently, the Henry Clay community had the pleasure of seeing Henry Clay's Production of Jack Gieger's Into the Woods. This show intertwines the plots of your favorite fairy tale characters including Cinderella, Jack from Jack and the Beanstalk, Rapunzel, as well as Little Red Riding Hood. Throughout the two acts, as well as a 15-minute intermission, the audience experienced a roller coaster of emotions as we followed their quests into the woods.
The story starts off with a brief musical introduction, following a Baker(Katie Rugg) and his wife((Roxanne Manning), who wish to have a child; Cinderella(Bella Aull), who wishes to attend the King's Festival; and Jack(Nia Henderson-Louis), who wishes his cow would give milk. Shortly following, when the baker and his wife discover that they can't have a child due to a Witch's(Sam Farely) curse, they embark on a journey to lift the curse, leading them to intertwine their paths with the others. In the end, everyone's wishes come true, but their actions have unintended consequences that come back to haunt them later on, leading to disastrous events.
Kiefer Shuler (head of Henry Clay's Theater Department), and Clark Cranfill (chorus/ guitar teacher), worked hand in hand in creating a blend between vocal and visual art showcased in Into the Woods. A good example of this that was shown in the making of this production was the use of a real-life pit orchestra, all played by Henry Clay band members. The orchestra was used as the musical backtrack for all the songs. The orchestra used a variety of instruments and sound effects to create the whimsical effect needed, while still incorporating the use of student participation. It was such a charming touch and really added to the overall experience.
The set captures the feeling of an enchanted forest with a scale-sized tree, a cliff, and real-life greenery, including twigs as well as real tree stumps. The stories of the fairytale characters are represented by large scaled books, that are wheeled on and off-stage as needed. The costumes, designed by Roxanne Manning (who also played the baker's wife), were incredibly done to capture the playfulness and lively personality of all of our favorite fairytale characters. One costume that I particularly loved was Little Reds. The beautiful "blood red cap" which is her character's staple piece, went wonderfully with her classic-looking dress.
Overall, the musical was wonderful. All of the characters produced great acting, and the vocals were amazing. I can't wait to see what Henry Clay's Theater department has in store for their next season.