Youth Service Centers get recognition the week of February 6th-10th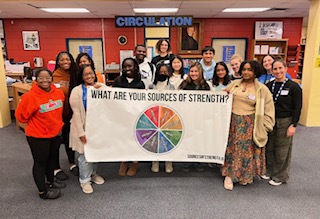 HC's Family Resource and Youth Service Center (FRYSC) is an integral part of the school community. It provides resources and necessities to HC students and their families. This includes food, school supplies, clothes, and many other items and support needed. It is currently run by Ciera Bowman, HC's FRYSC coordinator. Since taking over the position in December of 2020, Bowman has helped expand opportunities to best help the student body and their families. 
Youth service centers are in every Fayette County Public School. During the week of February 6th-10th, the Family Resource and Youth Service Center Coalition of Kentucky will be celebrating FRYSCs around the state. The week will be used to spotlight the importance of FRYSCs and the help they provide for students and their families. During the week there will be many opportunities for students, staff, and family members to help spotlight the necessary work being done for the FCPS community.  
One way that HC staff will be recognizing the HC FRYSC is by wearing t-shirts in support of the YSC. A survey conducted in January 2022 found that 91% of those surveyed agreed or strongly agreed that, "FRYSC are the hub for uniting educators, community, and families to resources and services for students." The crucial role that FRYSC plays in schools and the community should be recognized.
Another way that individuals can show their appreciation for the Youth Service Center is to say "thank you", whether that is writing a card to thank Bowman and HC's FRYSC or posting on social media using the recommended hashtags of: #FRYSCdowhateverittakes #FRYSCandTeachersareBetterTogether or #FRYSCandCommunityPartnersareBetterTogether. This will both show your thanks for the tireless effort put forth by FRYSC and their coordinators, but also spread awareness and highlight the importance of YSC in schools. 
FRYSC provides opportunities and necessities to HC students and families. The work that is done by Bowman and the youth service center is essential to HC and all those who rely on it. The same survey mentioned above states that 91% of respondents agree or strongly agree that, "FRYSC helps meet social and emotional needs not met in the classroom." The FRYSC deserve recognition everyday for the contributions they make to better schools across KY. However, HC students, staff, and families are encouraged to take special time the week of February 6th to appreciate Bowman and the FRYSC.