2022 Halloween costume ideas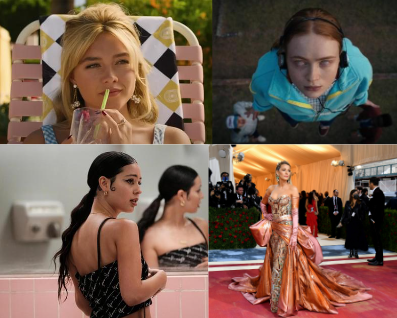 Halloween is the spookiest holiday of the year, and it is just around the corner, which means costumes from TV shows, movies, and pop culture stars. There are many unique and interesting costumes to create before this upcoming holiday. If you are having trouble finding a Halloween costume, these are just a few ideas to help you out. 
Max from Stranger Things 
Being one of the most popular shows on Netflix–Max from Stranger Things is a great costume for all the thriller fans out there. If you have an 80s jacket, a striped shirt, and mom jeans then you will fit the perfect part of Max's outfit from the "Running up that hill" sequence. Plus, if you have a pair of Bluetooth headphones laying around it will complete the entire look. 
Maddy from Euphoria 
The show that all got us through COVID-19 in 2020 has many great costume ideas if you like teen dramas. Maddy could be considered as one of the show's most confident and honest characters, which is shown quite a bit in her outfits. All you would need for Maddy is a two-piece crop top and pants set–even paired with a chunky platform pair of boots.The zig-zag hair band she wears throughout most episodes will complete this look.  
Don't Worry Darling  
The new movie featuring Florence Pugh and Harry Styles has had everyone in a hurry to go watch the movie. This movie is set in the 1950s telling the story of a housewife living in a utopian experiment living center with her husband played by Harry Styles. If you like psychological thrillers and 1950s fashion, dressing up as their duo would be a fun idea. Florence Pugh wears flowy vintage dresses with black flats, which really completes the idea of what a 1950s housewife would look like. Harry Styles traditionally wears baggy dress pants, a button up shirt, and suspenders in this movie. Dressing up as this couple is such an iconic idea to dress up as.  
Blake Lively Met Gala Outfit 
There is no doubt that Blake Lively was one of the best dressed celebrities at the 2022 Met Gala. Her bronze to ombre green dress was inspired by the Statue of Liberty in NYC. This was an iconic moment for fashion history, which would be a great costume to show off. To achieve this look, it will take more than just an hour. You will need a large amount of bronze body paint, a maxi dress, and most definitely a pair of ombre heels. Also, adding a pair of long gloves will finish off her Met Gala look.  
Beyonce's' Renaissance Cover 
Beyonce's' new album released this summer has become one of the biggest hit albums for pop music. One of the key features of this outfit is her glitter bodysuit. You can purchase a body suit anywhere–whether it is thrifted or bought on an online store. If you want to really go beyond buying a cowboy hat will pull the whole outfit together.  
The Kardashians 
If you are looking for a group costume, dressing up like the Kardashian sisters would be a fun idea. The Kardashians sisters mostly wear remarkably simple outfits in their day-to-day life–unless they are walking the runway for fashion brands like Prada or Coach. One could consider a tight top and leather pants would suit Khloe Kardashian's style. While Kim Kardashian's style is more eccentric with full body suits, and oddly shaped glasses. To complete each sister's looks, which would include Khloe, Kim, Kendall, Kylie, and Kourtney, consider looking up different outfits throughout their lifetime, and pick which one would suit you the best.  
 If you have not yet ordered your Halloween costume for 2022, now is the time to do so. Consider these ideas to make your Halloween costume stand out from everyone else's.