Critters create zoo-like atmosphere at HC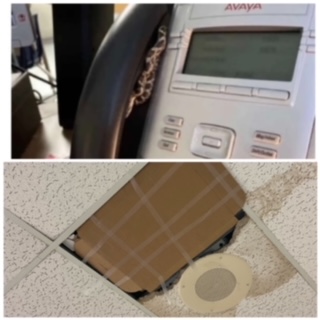 Upon the arrival back into HC at the beginning of the school year, students and faculty were warned of new guests- mice. Mice have been seen scurrying around the school in the cafeteria, hallways, classrooms, bathrooms, and the gym. On Labor Day, 200 sticky traps were placed in HC to help catch mice. These traps are not doing their intended job, as mice are still everywhere. Some get stuck on traps and squeal or bite off their limbs, which is heavily disturbing to students and faculty who are stuck listening to this. No urgency is being displayed by the district. Mice and snakes are falling out of the ceiling, and all that happens is an apology and the ceiling being covered with a cardboard box and Scotch tape. According to FCPS, HC is after Paul Laurence Dunbar High School in renovations, but it should be clear to all that renovations are needed now. 
HC has also been home to many roaches and other bugs. It is difficult to rid of all the critters when there are students eating in classrooms and doors and windows are open the majority of the time. The district has been contacted to fix the door sweeps to help with this issue, but nothing has been done to fix them. No student or teacher wants bugs crawling around their classroom, so the very fact that neither HC nor the district has done anything about this issue is disturbing. Custodians can only do so much to fix things when they are stuck catching all of the creatures. 
On September 21, there was a baby snake found in an English classroom inbetween the phone and the holder, after it had fallen out of the ceiling. According to wildlife centers, a baby snake implies a much larger mother snake and more eggs, meaning there are more snakes in HC's ceilings. Why on Earth are there snakes in our ceiling? Constant fear surrounds students and faculty that more creatures will fall out of the ceilings; this is a set up for disaster. HC English teacher Nathan Spalding posted about this incident, his post then became viral, and was actively discouraged to stop critiquing the school. However, the amount of shares on his post has brought to light the issue surrounding HC's health and safety.
There have also been sightings of birds in the cafeteria. Birds carry an absurd number of diseases, ones that do not belong in a group of high school students who are prone to go after creatures, out of curiosity or stupidity. Birds in the cafeteria are an especially serious problem because of the food; this is the same for the mice in the cafeteria. Students' health should not be put at risk by creatures in their school due to the simple fact that not enough is being done about them. 
The creatures are also a distraction to teachers who are constantly having to worry about finding them in their classroom, and them being a distraction to students. Custodians aren't able to do everything; they have limited time. Custodians also aren't paid to be zoo keepers. 
No one takes pleasure in the abundance of creatures in the building. Faculty does their best to control the issue and get rid of the creatures, but why is more action not being taken to ensure they are gone by the district?  The creatures are a disruption and health hazard to everyone in the building. HC is not a zoo, do something.