HC football team shifts the narrative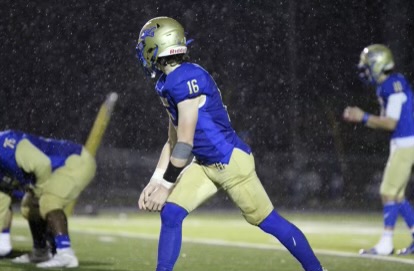 On Friday, September 10, HC football played their Homecoming game against Louisville Eastern, winning 18-12. The football team has currently won two games and lost two. In past years, HC has often had a poor reputation when it comes to the football team. This current year, the team is hoping to change that.
"Right now there's a losing mindset around HC football," Junior football player Walden Cole said. "Whenever you think of HC football, you don't think of a good team, and that's what we're trying to change."
Going into the Homecoming game, HC players felt confident that the team would be able to pull off a win. Multiple players were out due to injury or suspension. However, this is nothing new for the team, so they were not overly affected by this.
"I felt really good going into it, knowing Eastern wasn't that good," Senior football player Jayden Bailey said. "I watched all the film against Eastern and knew that they weren't good."
When recalling prior games that the football team has lost this season, Cole is assured HC is better than those teams; the HC football team just doesn't have the right mindset to carry them through the games.
"I feel like we're off to a decent start," Cole said. "I think the games we lost, those teams were not better than us; we definitely should be playing better."
Thinking ahead to the rest of the season, the team feels confident in keeping up the wins. 
"The district games are the easiest part of our schedule, Cole said. "We're a lot better than all of those teams."
Students should continue going to games and supporting their football team, to ensure the confidence of the players and the Blue Devil spirit. This Friday the 16th, there is another home game, this time against Douglass. The theme is white out, but the student section will be doing color wars, so prepare to be colorful. Kickoff is at 6:30, but there is a tailgate prior, starting at 5:00 and the first 50 students will receive a free tee-shirt.