Ways to keep your Derby party safe and fun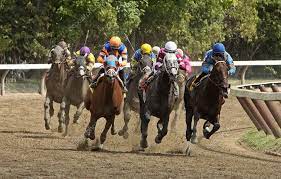 With the first weekend of May quickly approaching, so is one of the biggest days on the calendar for Kentuckians—Derby day.  With the party and race day excitement, there comes risks of Covid exposure. Even though the pandemic is still a risk, there are plenty of ways for you to still celebrate the Derby.
One option for those who don't want to expose themselves to the virus could be Zooming or Skyping. After a year of online school, many people are familiar with both of these apps. Even though it is not quite the same, you can still have fun. On Zoom, you can show off your colorful hats and make yourself a delicious snack and dessert. You can also screen share and still watch the race together. 
For people who are opting to have an in-person Derby party this year, there are creative things you can do while still social distancing. For example, instead of crowding around the TV in a living room or inside, you could try to watch it in a garage with the door open or on a patio. This way there is more ventilation and you can still enjoy the race and your friends. 
Fashion is also a big deal in Kentucky for the run for the roses. For people who decide to have an in-person party, masks are important. While it might not make your outfit better, you can do things like match your mask to your hat or dress.  Even if you move your party to outside, you can still wear fashionable looks that set you apart from everyone at your party. Moving it outside can create a unique opportunity to show off some race day looks unlike any from years before.
One thing you can't forget about when it comes to Derby is the food. Some of everyone's favorite foods are served during Derby weekend. Covid, however, has made it a little more tricky to enjoy the iconic dishes. Some creative things you could do are make things like mini hot browns. This way not everyone has to be served from the same dish. You can also make personal bowls of dip and use prepackaged bags of chips.  Another creative and safe idea is to make personal charcuterie boards so people aren't grabbing off of the same plate.
Even though Derby day will be a bit different this year, that doesn't mean it won't be fun. The iconic race will once again bring people together to celebrate something so unique to our state—whether we are enjoying it in person or over Zoom. While it may not be the same as past years, everyone can still enjoy the traditions that make it so special.