Covid Vaccine comes to students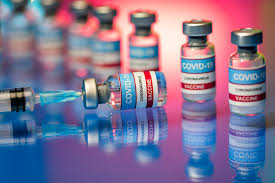 Many high school students throughout HC have begun to receive their vaccine, myself included. The Pfizer vaccine has recently opened up for anyone ages 16+ while the Moderna and Johnson & Johnson remain as options only for those 18+. 
The website vaccinefinder.org is a free website that uses your location, age, and any health conditions you choose to report, to find vaccine appointments that are available in your area. Here in Lexington you can find vaccines at most pharmacies alongside various pop-up vaccination centers. I received mine at the UK football stadium. Starting tomorrow all students aged 16+ will be able to get their vaccine from the school tomorrow, April 27th, only. The second does will be offered on May 18th. To sign up, follow this link kyvax.wildhealth.com and be sure to have your parent or guardian nearby so they can give consent. Be prepared to potentially experience some negative reactions to your first or second shot. Many people have reported negative side effects especially after the second vaccine dose. To incentivise vaccinations some companies are offering complimentary items such as a free donut every day for the next year for Krispy Kreme, or a free dessert from White Castle.
Hopefully before the beginning of next school year enough people will be vaccinated so that restrictions will not be so oppressive, but until then, it's important to be mindful of wearing your mask and following all other Covid-19 protocols.