LexLive Open to Fanfare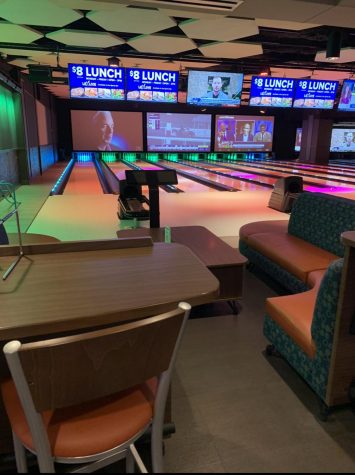 Downtown Lexington just gained a new entertainment center located on South Broadway. LexLive has two floors of top quality fun for everyone to enjoy. On the upper floor, there are 11 high-end theatres that can be rented out for personal use. On the lower floor, there is also a bar area that can be rented out and a place for live music can go in that area. There is also a main dining area that anyone can enjoy during the week with friends and family. Not only are there 14 bowling lanes, four of which can be rented for private parties, but there is also a top quality arcade with both vintage and new games. 
The movie theatres provide a unique experience. All of the theatres have reclining seats and temperature controls to make customers feel more comfortable. At LexLive there is a special theatre called the LFX theatre which has an 80 feet wide screen, making it the largest screen in Kentucky. The audio system is also high end and captivating. The LFX theatre can comfortably seat over 150 people. The pricing for the theatres is based on age, varying between 10-12 dollars per ticket. 
In the restaurant, there are huge screens with multiple channels playing at a time. On the menu there are many reasonably priced items, such as $8 lunch entrees. The food is also prepared in house with fresh ingredients. Dinner prices are also reasonably priced. LexLive is currently operating at 60% capacity due to Covid guidelines and all of the tables are a safe distance away from each other.
The bowling alley and arcade are also enjoyable. For people who love arcades, LexLive offers a variety of new games such as VR simulations and old games such as Dance Dance Revolution. Bowling is also a fun option when your with friends or family. There can be six people in a lane due to Covid, but once restrictions are lifted you can have up to 10 participants. The pricing for bowling on Sunday- Thursday all day for individuals is $5.50. Friday after 5 and all day Saturday is $42 per hour for a lane. It is also an additional $4.50 for shoe rental always.
LexLive does have a new rule that was put in place after the first weekend. Anyone under the age of 18 must be accompanied by someone 21 and older after 8 o'clock. Even though that may be upsetting, LexLive does have job opportunities for highschool students. Overall, LexLive is a great new spot for students to hang out with friends and family. With the convenient  location and the amount of activities it will definitely be one of the great spots in Lexington.