Georgia Representative Marjorie Taylor Greene is out of line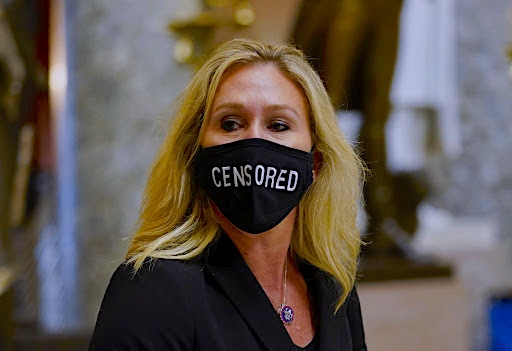 Georgia Representative Marjorie Taylor Greene is well known for probably the most dangerous thing–being a supporter of the far-right conspiracy group QAnon. More specifically, MAGA. 
Her political violence has the House of Representatives outraged to where they removed her from committee assignments. The GOP leadership declined any discipline towards her, and Democrats are pushing for more consequences. 
Representative Greene had recently contradicted her alt-right views, which needless to say she is bluffing. The only reason she is disavowing her views is to keep her committee assignments. The nation does not need someone like that holding power due to right opinions relating to 9/11 not being real, school shootings fake and staged by actors, and etcetera. Not only does this expose her flakiness, but it exposes her true self– a crazed conservative who worships the ground former President Trump walks on.
She has not, and probably will never, publicly apologize for her words and actions. Her party will not even hold her accountable for her mistakes. She also supported harm against her fellow Congress members during the Capitol Riot this past January. 
Overall, Representative Greene has some other extreme views, some relating to anti-Semitism and Islamophobia. For example, she believes that a Jewish space laser was the reason behind the wildfires in California. She also supports the idea of killing former President Barack Obama, the Clintons, and FBI agents. Not to mention, she believes that there was absolutely no evidence to prove that the Pentagon was attacked on 9/11. Representative Greene said that she has not said any such thing since her election, while her digital presence prior to her election speaks volumes. 
Representative Greene also said that Trump was the one that inspired her to get into politics, which is scary on its own. The apple does not fall far from the tree. 
The Democrats do not buy any of her explanations, which is completely understandable. There was no explanation or apology for her words and actions. She did not apologize for her hurtful words about school shootings or about her beliefs in anti-Semitism.
Representative Marjorie Taylor Greene's alt-right political ideologies are frightening and something about which everyone should be concerned. While Representative Greene believes in not surrendering her views, the rest of the sane people in this country believe she should.