Gorman's star shines bright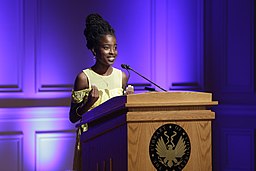 Amanda Gorman, the youngest inaugural poet in American history, continues to write groundbreaking work covering issues of oppression, feminism, race, and marginalization. Born on March 7, 1998, this 22 year old continues to inspire and amaze anyone willing to listen to her pieces. Born and raised in Los Angeles, she began writing at a young age. Amanda was single handedly raised by her mother, Joan Wicks and later on attended Harvard University. 
One of Gorman's most admirable accomplishments is in 2017 being the First Youth Poet Laureate in the United States. Her words have won her invitations to the Obama White House and to perform for Lin-Manuel Miranda, Al Gore, Secretary Hillary Clinton, Malala Yousafzai, and many others. 
In Kindergarten Gorman was diagnosed with an auditory processing disorder and has struggled with speech articulation throughout her life. APD refers to challenges in how the brain understands speech. The sounds may be loud and clear. But people with APD do not pick up on the subtle differences between them. It isn't related to hearing problems or intelligence, and it can affect people of all ages in different ways. 
Gorman is more than an inspiration, she is an idol for not only women, minorities, and people suffering from speech disorders, but also for Americans in general. 
Her words on January 20th hit the spot and was the "pick me up" that many were searching for. She did not sugarcoat the situation in the slightest, but also talked about how unity is essential for us to get through this pandemic. President Joe Biden's speech complemented her poem nicely, as they both discussed the necessity of unity.
Amanda Gorman's words have a special place in my heart because of her authenticity and meaning behind her words. She possesses an amazing talent, and she uses that talent to voice what needs to be said.